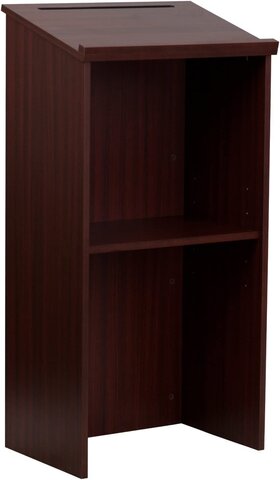 Wooden Podium
PROFESSIONAL LOOK. Boasting a standing height of 46" and a reading surface that features a 23" width x 15¾" diameter, this podium will deliver a professional look wherever it's used. The reading surface slopes at a 15-degree angle and features stylish molding on the bottom to prevent papers and books from sliding. Furthermore, a pencil slot on top allows you to keep writing utensils close at hand for added convenience.
CONVENIENT STORAGE SPACE. A height-adjustable, open storage shelf measuring 20½" in width x 12¾" in diameter provides a handy place to store equipment, cases and supplies that you may need throughout your presentation. It's also an ideal place to store brochures or flyers that you would like to pass out to audience members before, during or after your speech.
MULTI-PURPOSE PODIUM. Adding style to any speech, this lectern can be used in conference rooms, meeting halls and religious establishments to make presentations, or in the classroom to give lectures.
​​​​​​​