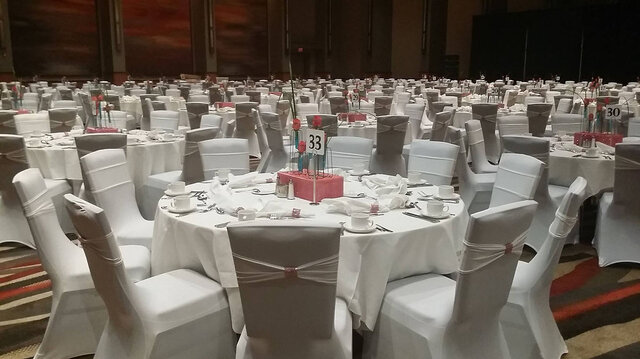 Spandex Chair Covers- Please select your desired Size and Color. Two weeks lead time needed to complete your order. No cancellations or changes. Please call me if your event is sooner and we will see about fulfilling your order.
Product Details
Our spandex chair covers are designed to fit a variety of banquet style chairs that are approximately 17" wide with backs that are about 1" tick, but do not properly fit any kind of folding chair or "church" chair. While you may be able to get these chair covers on other styles/sizes of chairs, the overstretching can cause damage to the chair covers.
Colors available:
White, Black, Red, Apple Red, Blush, Burgundy, Burnt Orange, Buttercup Yellow, Canary Yellow, Champagne, Charcoal, Chocolate, Coral, Dusty Blue, Dusty Purple, Dusty Rose, Eggplant, Fuchsia, Gold, Hunter Green, Ice Mint Blue, Ivory, Kelly Green, Lavender, Light Blue, Light PInk, Lilac, Lime Green, Mint Green, Navy Blue, Neon Orange, Neon Yellow, Oasis, Olive Green, Orange, Peach, Peacock, Pewter, Pool Blue, Royal Blue, Royal Purple, Sage, Purple, Tiffany Blue, Turquoise.